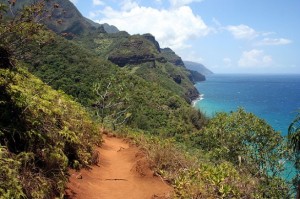 Can't beat that! I didn't see a way to share this article on my blog so I've copied and pasted. Full link:
http://www.bootsnall.com/articles/09-02/10-best-hiking-trails-world.html
Here are the ten best hikes on the planet, each with a combination of scenery and special extras that make them well worth going out of your way to enjoy. If you can do all ten of these hikes, then you just won the lottery!
Tongariro Northern Circuit, North Island, New Zealand
It is certainly no secret that New Zealand boasts some of the world's most beautiful and dramatic scenery, which is why it's not surprising that one of the world's most spectacular hikes is located on these mountainous islands. While many people who hike in the Tongariro Reserve (a World Heritage site) on the Northern island stick to the one-day Tongariro Alpine crossing, the multi-day (2 nights and 3 days) Tongariro northern circuit provides hikers with a much richer and scenic experience.
Hikers on the Tongariro Northern Circuit hike for about 35 kilometers through non-stop compelling volcanic and desert environs that will make you feel like you are trekking on the surface of another planet—all while giving you high mountain peaks as a backdrop, diversely striking vistas wide variety of different scenery. Hikers who set out on this out-of-this-world hike (quite literally) will circumambulate the active volcano Mt. Ngaurube (Mt. Doom for those Lord of the Rings fans out there) while hiking past boiling mud pools, craters, interesting lava features, the amazing water filled volcanic vents, glacial valleys and water-filled explosion craters called the Emerald Lakes. Things stay nice after dark, as you get to stay in comfortable alpine huts along the way that have decent beds, gas heating and stoves, running water and toilets. Hikers on this trek can also easily do two short side trips to the tops of both Mount Tongariro and Mount Ngauruhoe—allowing hikers to gaze out at the captivating volcanic scenery below.
Zion Narrows, Utah, United States
While hiking through the volcanic landscape of the Tongariro northern circuit may provide enthusiasts with an extraterrestrial experience, hikers are sure to be amazed at the unique and stunning scenery of trekking through the Zion narrows in the American southwest. Recently ranked as #5 on National Geographic's list of America's Best 100 Adventures, this trail will have you hiking up streams through dramatic, narrow slot canyons.
Hikers will wind their way through colorful, sculpted sandstone walls that rise up to 3,500 feet (that's just about 1 km). The trek will also lead hikers through the famous "Wall Street," a 2-mile section of the journey that crosses through a narrow canyon where the walls close to just 22 feet wide at the top. Hiking through water for about 60% of the hike up the streams that wind their way through these breathtaking slot canyons, you will see hanging gardens bursting from the red canyon walls, trickling water threading through cracks in the canyon walls and sprouting patches of moss, waterfalls sliding over the sandstone, and sandy banks with towering ponderosas. However, while this wondrous journey is sure to enchant hikers, it should be noted that hiking through the Zion Narrows is extremely dangerous, as flash floods can come quickly and the entire area is a huge drainage. Rainstorms up to 50 miles away can storm down the canyon and every year hikers die on this trail. Make sure to check the weather report in advance to make sure there is NO RAIN whatsoever in the forecast. However, with proper precautions, this hike, which is rated as one of the best hikes in the entire U.S. National Park system, is truly unparalleled.
Annapurna Circuit, Nepal
Any serious hiker or trekker dreams of going to Nepal to journey through the world's most dramatic mountain landscape. While most hikers think of Kathmandu and Everest when they hear the word Nepal, the Annapurna circuit (which circumnavigates the Annapurna massif) not only has staggering snow-capped and rugged peaks providing for a spectacular backdrop, but the hike also offers trekkers great opportunities to see a wide range of natural and cultural diversity.
This 3-week trek allows you to stay in comfortable lodges as you hike from lush sub-tropical landscapes into the highest mountains in the world (beware of altitude sickness as the trek goes to a elevation of 17,749 feet). As you hike the Annapurna Circuit, you will get to interact with the Tibetan mountain peoples, see Buddhist temples, visit teahouses, soak in hot springs and take in some of the most awe-inspiring scenery in the entire world.
Inca Trail, Peru
Most people who know something about travel, know about the famous and world-renowned Inca Trail. While some of the more hard-core types out there may think of this amazing trek as cliché, the truth is that this trail is popular for a reason. Peru offers some of the most beautiful South American mountainous scenery and, while some criticize the trail for being over-regulated and too popular, Machu Picchu is a destination worth seeing and the hike along the way is sure not to disappoint, with plenty of scenic vistas and amazing views.
Along with offering spectacular scenery, the Inca Trail is not only safe and easy to organize, it also allows trekkers to hike through jungle to high alpine terrain, visit 3 sets of Inca ruins along the way, and take in the beauty of the Peruvian mountains over the 3-night, 4-day hike. Plus, at the end of the journey, hikers will arrive at one of the most celebrated man-made destinations on Earth.
Tiger Leaping Gorge, China
This 15-km gorge located along the Yangtzee River between approximately 6,000-meter Jade Dragon Snow Mountain and the 5,300-meter Haba Xueshan mountain, in China where rapids pass under a series of dramatic 2,000-meter cliffs. The gorge got its name from a legend that says a tiger once jumped the narrowest point of the gorge to escape a hunter (which is still 25 meters). As one of the world's deepest river canyons, Tiger Leaping Gorge is a beautiful and scenic hike for those adventurous trekkers.
The high-road trail is well-maintained and marked and takes hikers on a 14-mile journey with varied mountain views that features a surprising variety of micro-ecosystems, waterfalls and even guesthouses where hikers can stay along the route.
While this gorgeous gorge is a essential and protected part of the World Heritage site of the Three parallel Rivers of Yunnan, the Chinese government has proposed building another hydroelectric dam that would flood this place—meaning hikers interested in seeing this beautiful, lush canyon should probably head there sooner rather than later.
Mount Kilimanjaro, Tanzania
If summiting the tallest point on any continent has always had major appeal, but you are not sure you're up for a technical, dangerous and rigorous climb, then hiking to the top of Mount Kilimanjaro is a great option. Kilimanjaro is often called the world's tallest walkable mountain, because while it stands at nearly 20,000 feet, no technical climbing skills or equipment are needed (mind you, this does not mean it is an easy hike—the journey is still physically demanding and people die every year from altitude sickness on this mountain).
There are several routes to the top of the tallest free-standing mountain in the world and the highest point in Africa is not only of the seven summits (the tallest points on each of the seven continents), but it's also one of the most diverse and varied hikes in the world. Hikers start near the equator and hike through every climatic zone on the 6-day, 5-night trek that leads you from hot grasslands through temperate forests to glacial valleys and a frigid summit.
Kalalau Trail, Kauai, Hawaii
Kauai's Na Pali coastline, which translates as "the cliffs" and which distinguishes the most impressive feature of this stretch of coastline boasts some of the most dramatically beautiful scenery in the world. Sheer cliffs dropping into the blue Pacific waters below, lush tropical valleys with picture-perfect waterfalls, green, velvet coated mountains and waves crashing dramatically into the rocky cliffs mark this hike into the remote and protected areas of coastline, where you can also spot pods of dolphins, humpback whales and sea turtles off the coast.
The 11-mile trail etches into the cliffs that raise as much as 4,000 feet above the ocean below and crosses 5 major valleys and countless smaller ones. The sometimes-treacherous trail takes most experienced and fit hikers one day and many hikers two, who camp in a permitted spot along the way. The trail was first built in the late 1800s, with portions rebuilt in the 1930s. It is almost never level, and in some spots the trail is quite narrow along cliffs dropping hundreds or thousands of feet to the ocean below.
Torres del Paine Circuit, Chile
Those looking for dramatic alpine landscapes, glacial fields, astonishing, jagged mountainscapes and a chance to get a look at the stunning spires of pink granite that make the famous towers of Paine should hike the Torres del Paine Circuit in Chile's Patagonia mountains. Named one of the 50 places to visit in your lifetime by National Geographic, as well as being named a UNESCO biosphere reserve, this 100-km circuit offers surreal mountain vistas, glacial lakes, unique wildlife. You might even see a glacier calving. The wondrous track takes you through Magellenic forest, muddy bog, rocky gullies and over makeshift bridges.
Hikers should be weary that while this region is totally gorgeous, it is also notorious for inclement and often quite horrendous weather—meaning that not only will your pack be heavy laden with all of the appropriate gear to keep you warm and dry in the event of a storm, but it is also possible to get stuck in a bad storm or run into closed portions of the trail. But, the bad weather keeps this trek from getting overly crowded and you'll feel all the more rough'n'tumble and accomplished for having braved harsh conditions (and those towering spires of the Paine will probably look all the more beautiful).
Tour de Mont Blanc, France
Regularly making lists as one of the best hikes in the world, this route circumambulates Mont Blanc, Europe's highest peak standing at just over 15,000 feet. The 170-km hike offers stunning views of Mount Blanc and other Alp peaks, beautiful green valleys, blue alpine lakes and huge glaciers. The well-marked and maintained trails also lead hikers past wild chamois and ibexes, allow them to climb iron ladders bolted to the mountains and enjoy the alpine charm of the French Alps.
The other great part of this hike? While you may not feel quite as tough staying in the comfortable and warm refuges (hiking huts) along the way, not having to carry food or a tent makes for much lighter loads. Also, while opting to take the cable cars and chair lifts along the way could be considered cheating, it's a great way to shorten your hike on certain days and be able to take in all the beautiful scenery without having to be too hardcore. Plus, the refuges offer comfort along the route—serving up hearty and delicious French food and wine and allowing hikers the chance to stalk up on food and supplies.
West Coast Trail, British Columbia, Canada
If you are looking for a surreal experience hiking through pristine Canadian wilderness, catching beautiful vistas of both temperate rain forests, rugged coastlines and dramatic mountain peaks, then the West Coast Trail is an absolute must. Hikers will awake to misty dawns, enjoy unbelievable sunsets, cross boulders and logs over rivers, scramble up creeks, hike past waterfalls, be dwarfed by enormous trees in an old growth forest, spot whales, sea lions, minks and maybe even bears or wolves, and check out shipwrecks and other historical sites.
This unique, stunning hike with immensely varied terrain can be difficult to get one of the limited permits available every summer and costing about C$200 per person it is also the most expensive hike in Canada. Also, inclement weather even in the summer months can make for heavy packs for climbing over mossy rocks and all of those ladders. That being said, this hike is well worth both the money and the heavy pack, as no other hike in North America offers such varied scenery from forest to mountains to sea.